#15 – Jurassic Park Review
"In the information society, nobody thinks."
3 years ago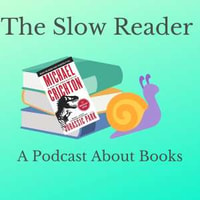 Welcome back to The Slow Reader! Quite an update this time around. New this episode are some time markers if you want to jump around and listen to specific parts. No intro music this time - didn't have anything I felt fit the episode.
00:42 - What have I read since March 31? 03:55 - What am I currently reading? 05:03 - Jurassic Park Review 07:08 - What's Next? 08:07 - Wrap-Up
Books mentioned in the podcast:
George Lucas Life Magazine Bio
Spock, Messiah!
One Good Reason: A Memoir of Addiction and Recovery, Music and Love
Magic Time
For Your Eyes Only (James Bond short stories)
Shoe Dog
Jurassic Park
Gump & Co
The Heroin Diaries
Red Rising
The Name of the Wind
Ready Player One / Ready Player Two
The Lost World: Jurassic Park
Tunnels
Devil in the White City
Paper Towns
Louis Riel (Graphic Novel)
Twitter: https://www.twitter.com/stephen_g
Goodreads: https://www.goodreads.com/user/show/2474979-stephen-gower
Website: https://slow-reader.pinecast.co
Support The Slow Reader by contributing to their tip jar: https://tips.pinecast.com/jar/slow-reader
Find out more at https://slow-reader.pinecast.co